Pediatric Dentist Serving Cleveland Park, D.C.
---
Capital Kids Dentistry is proud to provide top quality pediatric dental services to patients in Cleveland Park, including dental cleanings, interceptive orthodontics, laser dentistry, and sedation dentistry. Call to schedule your appointment!
---
Capital Kids Dentistry
ADDRESS
4200 Wisconsin Ave NW, Suite 240
Washington, DC 20016
Directions
HOURS
Monday | 8am - 5pm
Tuesday | 8am - 2pm
Wednesday | 10am - 6pm
Thursday | 8am - 5pm
Friday | 8am - 2pm
Saturday | Closed
Sunday | Closed

Request an Appointment
---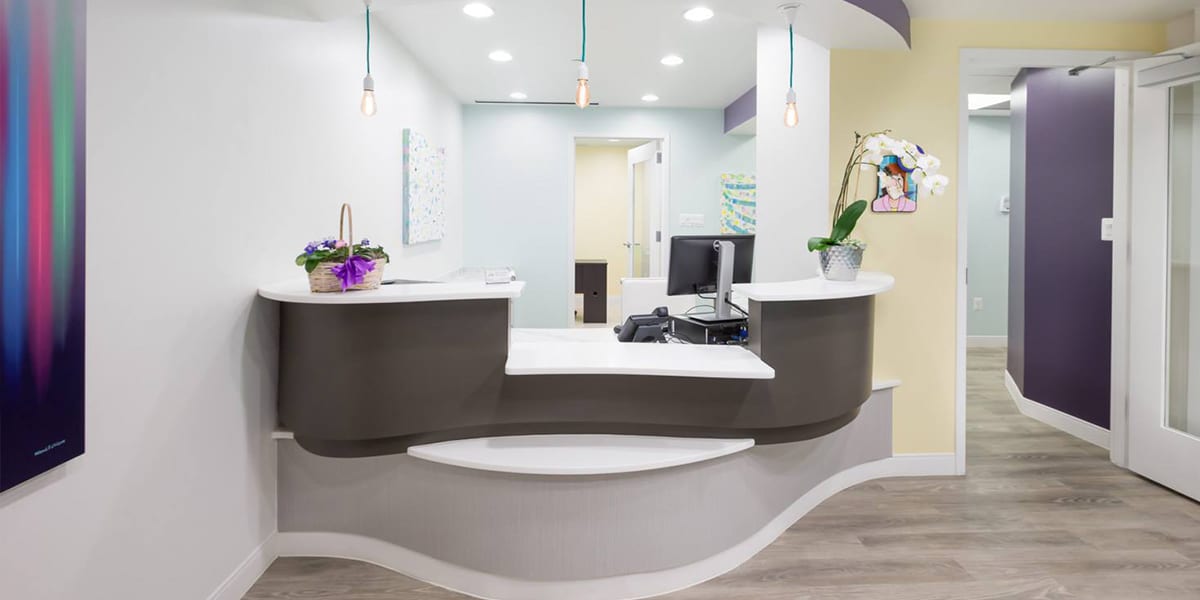 ---
Capital Kids Dentistry is located in Tenleytown and easily accessible by walking, car and public transportation, both metro and bus. We provide validated, in-building parking and there is ample neighborhood street parking. We hope to see you soon!
---
Frequently Asked Questions About Our Cleveland Park, D.C. Area Pediatric Dental Practice
---
Should my child go to a pediatric dentist?
---
Pediatric dentists specialize in treating children and understand their unique dental needs. Like all dentists, pediatric dentists earn a DDS or DMD degree from an accredited dental school, but they go on to receive two to three additional years of education and training focusing on providing dental care for kids. All of our staff members enjoy working with children, and our office is a friendly, welcoming environment that puts our young patients at ease.
Is pediatric dental sedation safe?
---
Pediatric dental sedation is very safe at Capital Kids Dentistry. We typically use nitrous oxide (laughing gas) for sedation, which is low risk and has few side effects or complications. Nitrous oxide has a long track record of safety and wears off within seconds, so your child will feel back to their normal selves before they leave our office. For those patients who need general anesthesia, we work in conjunction with an anesthesiologist. Dr. Jessica has also completed the Pediatric Advanced Life Support (PALS) program and an anesthesia rotation as part of her pediatric dental training.
Is there an alternative to fillings?
---
Yes, we offer silver diamine fluoride (SDF) as an alternative to traditional dental fillings. This treatment remineralizes weak spots in the enamel and can also be used to stop cavities from growing. SDF can either eliminate the need for additional treatment or postpone it until your child can tolerate a dental filling. SDF involves painting a liquid onto the affected tooth, so the process is painless and quick.
What qualifies as a dental emergency?
---
We consider it a dental emergency if your child has uncontrollable bleeding, unbearable pain, or a tooth that requires immediate treatment to save it from needing to be extracted. Please call our office as soon as possible in an emergency situation so we can schedule an appointment for your child.
What are the advantages of laser dentistry?
---
We're proud to be on the cutting edge of dentistry and provide pediatric laser dentistry in Washington, D.C. We believe laser dentistry is one of the most effective tools we have to help make dental procedures more comfortable for kids. Capital Kids Dentistry uses the Solea dental laser, which can treat both hard and soft tissues. With this dental laser, we can perform procedures without the need for anesthetic injections; treatments are faster, with less bleeding, lower infection risk, and faster recovery time.
At what age is the first dental visit?
---
The first dental visit should be around the age of 12 months, or within six months of the eruption of a child's first tooth. These early visits help establish our practice as your family's dental home.
---
See What Parents Are Saying About Our Cleveland Park Area Pediatric Dental Practice
---
Amazing! There's no other place I'd take our children. Professional, comforting with the kids, thoughtful, knowledgeable and all the things you want in a kids' dentist. We've had cleanings and cavities filled. Both were painless and quick." - V.A.
"I never thought my children would be excited and happy to go to the dentist, but they can't wait for their regular checkups with Dr. Jessica." - L.D.
"Dr. Rubin is the best pediatric dentist in the city, the region, possibly the country!" - H.H.
---
Directions from Cleveland Park
---
Head north on 34th St NW toward Highland Pl NW
Continue onto Reno Rd NW
Turn left onto Van Ness St NW
Capital Kids Dentistry will be on the right
---